Hello again everyone!
This blog post will be like a bit of a side post to last weeks blog in the sense that it delves deeper into understanding blogging.
So the first thing I am going to write about is the definition and history of blogging, where it comes from and why it has become such a popular form of social media.
So, what is blogging?
Image source
Blogs themselves are a very simple form of social media. Blogging platforms allow users to write about absolutely anything they choose. Many people use blogging as a way of online diary writing, and many people also use it to post recipes of things they like to make. Blogging is considered by some to have started in the late 1950s, with a websit e called Open Diary. This website allowed users to network and it bought people together through writing their diary entries on an online 'weblog'. One of the users of Open Diary noticed that the word weblog could be made into the short sentence of ' we blog', and the term 'blog' and 'blogging' has been used ever since! There are many different blogging websites: Tumblr, Weebly, WordPress, Blogger, and many more!
Image source
Blogging has become an incredibly popular form of social media in the 21st century. So many different types of people use blogs too. New parents can write blogs about their new parenting experiences, others write and share recipes and cooking ideas. Some people share their life experiences, or write travel journals… And some even write blogs for homework! (Hint hint, nudge nudge – Thats me!)
Image Source
The next question that needs to be asked is: What is the role of blogging in social media?
Initially, blogging was the main way for people at home to share their thoughts, feelings and experiences. Now, because of the way social media has taken of over the last 15 years, many companies have invested a lot of their time (and marketing budget!) into projecting themselves through various social media platforms. As you can probably gather at this point in the post, that one of these platforms is blogging.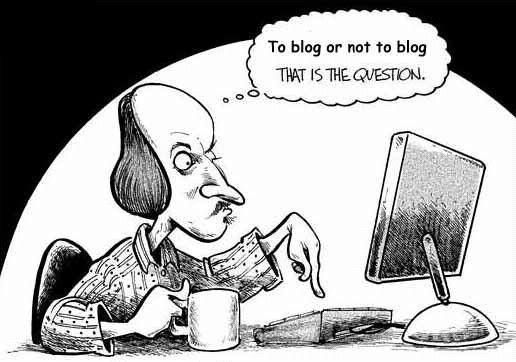 Image source
Blogs can be useful to businesses for updating their consumers on changes in their products, services, or businesses. Blogs can also help management inform their employees of any information they may need to know. Blogs are also really good for public relations as they help to maintain a certain level of transparency for a company, which can make them trustworthy and reputable in the eyes of consumers.
Image source
Blogging is now so important to businesses, large and small. Many small businesses actually started out as a blog that they ended up being able to monetize and developed into a proper business. Many businesses are creating blogs to talk about their products and services, to post tutorials or videos about how to get the best out of the product or service.
With the entry of Youtube into the Internet scene in 2005, Vlogging started to become popular. Vlogging is someone talking into a camera, rather than talking through a keyboard. Many young people started vlogs in the very early days of Youtube and have gained so many subscribers to their channel that they have created merchandise and books relating the them and their vlogs, that they vlogging idea has now become a business.
Image source
Blogging (and vlogging for that matter) has once again become an incredibly popular form of social media that businesses are quickly learning to capitalise upon. They are simple, easy to use and can be linked to other social media accounts to boost their reach to consumers. This is what makes them such a useful marketing tool for business and is why so many more  people are jumping aboard the 'Blogging Bandwagon'!
So my questions now are to you dear reader! Do you have a blog? Have you ever tried blogging before? Do you think you might like to? Do you have a business or do you work for a company that you think could benefit from having a blog?
Well, there is no time like the present to find out!
Header source